Luxury Holiday Accommodation Firs Lodge Stockbridge, Hampshire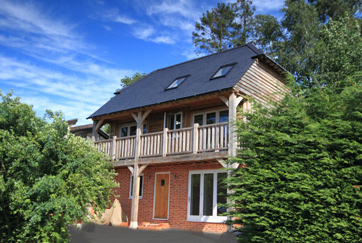 Located in the heart of the renowned Test Valley in the south of England, Stockbridge has a unique ambience for those who appreciate the pleasures of rural life, there is now the opportunity to stay in newly built Firs Lodge.
Subtle design means that Firs Lodge Stockbridge is ideal as a holiday let for individuals or parties seeking a high quality stay in the Stockbridge area; the house features flexible accommodation, having two bedrooms on the ground floor and a large open plan living space on the upper floor, with the balcony offering spectacular views over the beautiful landscape to the west.
Whether your passion is country walking, fishing, shooting, cycling, fine cuisine or simply relaxing with a good book to read, Firs Lodge Stockbridge offers the ideal surroundings to unwind from the pressures of modern life. Naturally however, should you wish to stay in touch, tv, wifi and data port links are provided around the house for your convenience.
Built to a very high standard, using locally made Michelmersh bricks to support a green oak timber frame construction, and finished with underfloor heating powered by an air source heat pump, the accommodation offers excellent levels of comfort, and all within strolling distance of the renowned Stockbridge High Street.
Our High Street has been known since Victorian times for its excellent hospitality, and winning the Google "best foodie street" award in 2010 was confirmation that its reputation is current and well deserved, with an exceptional range of pubs, restaurants and shops, all within a very short distance of Firs Lodge. Whether your preference is for eating out or self-catering, everything you need is here, so there is very little forward planning required for a stay at the Lodge.
We look forward to making you welcome over your stay, please look around our website for further information on the accommodation and facilities provided both at Firs Lodge and in the surrounding area; if you have any questions, please contact us and we will of course be pleased to advise.