2014 Stockbridge Fun Run – Sunday January 12th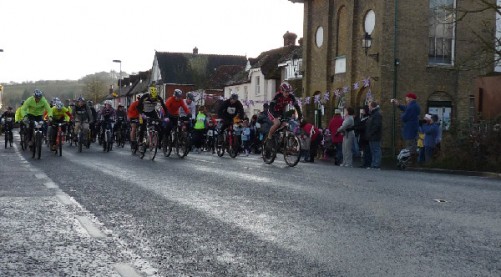 The 27th edition of the annual George Skeates Benevolent Fun Run takes place on the 12th January this year, when the High Street is closed to traffic whilst the mass start takes place. This event attracts a large entry of runners, bicycle riders and walkers, with the option of the 8 mile long course up Roman Road out of the village, across the open plain and up to Chattis Hill, down the green lane to Longstock, and back to Stockbridge via the Bunny, the Test Way and the infamous "Gumboot Alley" ditch to finish with.
Or, there is the the gentle 3 mile lower route for those less energetic or able of all ages, along the tarmac road up to the Peat Spade, then also down the Bunny and back down the Test Way to the finish.
George was a top flight motocross sidecar driver who sadly had a serious accident and the Stockbridge Fun Run was started as another means to give him the assistance he needs, and has become a regular part of the calendar for pre-season training of motorcycle competitors and road or cross country runners alike, and is always a great social occasion too.
For an entry form phone Jeb Crossman on 01794 500600 or email him on [email protected]