26th Annual Stockbridge Fun Run, 13th January 2013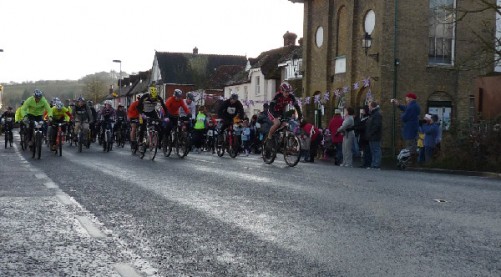 Originally started by friends to help George Skeates, a local Sidecar Motocross competitor who suffered spinal injuries in a racing accident, the Fun Run is now in its 26th year. The event has grown over the years and is always a good way to blow out the Christmas excesses, with a range of options on the route to take. Open to runners, horseriders, mountain bikers and walkers, you can either take the long route from the High Street, straight up the old hill road past  the school, around to Danebury, Leckford and back down through The Bunny and Gumboot Alley to finish at the Town Hall, or, for those with a gentler walk in mind, stay on the lower Leckford road and walk up to the Peat Spade and join The Bunny there.
With benefits going to the Odstock Spinal Unit and the Southampton Cardiac Unit, signing on is at the Town Hall from 09.00 on the day, ring Maureen Crossman on 01264 810000 for further details, or visit the SETRA website for the entry form.
Update 13th January 2013 – it was a lovely winter day for the event, have a look at our Facebook page for pictures…..