Romsey Boxing Day Classic Car & Bike Meet 2012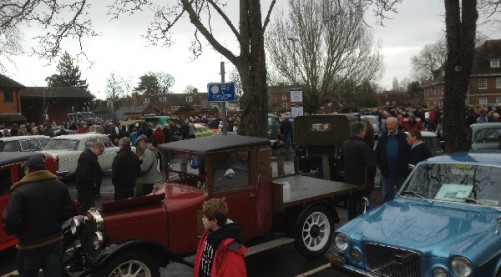 Since 2002 there has been a meeting for classic pre 1975 cars and bikes in the centre of the town, evolving from small beginnings to an event that now attracts over 700 vehicles of every kind. Started by local resident Steve B to have a bit of fun and collect some funds for various charities such as the Prostate Cancer Charity, the event has gone from strength to strength and provides a great way to get out and clear the head after some Christmas over indulgence.
Vehicles this year were an esoteric mix of the sublime and the unusual, with some stunning participants such as the 1963 Monte Carlo Rally Mini, James Martin's beautiful 1965 Ferrari GTB, a superleggera DB5, through to Yankee Goodies like a mauve Plymouth Barracuda in right hand drive, Chevy Bel Air, cool Hot Rods, and the british cars of our youth such as humble Vauxhall's & Morris Oxfords…..truly something for everyone……and great to see so many enthusiasts bringing these vehicles out for everyone to look at and hear in action.
Always good fun to drive to Romsey and chat about cars, and a great excuse to get out of the house for a breath of fresh air in our '43 Willys after a touch of over indulgence on Christmas Day.